Physical description:
According to the International Union for Conservation of Nature and Natural Resources the Siberian blue robin (Larvivora cyane) is not among the endangered species of birds. It lists their range as "Brunei Darussalam; Cambodia; China; India; Indonesia; Japan; Kazakhstan; Korea, Democratic People's Republic of; Korea, Republic of; Lao People's Democratic Republic; Malaysia; Myanmar; Nepal; Russian Federation (Central Asian Russia, Eastern Asian Russia); Singapore; Taiwan, Province of China; Thailand; Viet Nam".
This particular bird was given its Latin name by Peter Simon Pallas in 1776. This makes sense considering what the Encyclopedia Britannica online tells us about this man. "Peter Simon Pallas, (born Sept. 22, 1741, Berlin—died Sept. 8, 1811, Berlin), German naturalist who advanced a theory of mountain formation and, by the age of 15, had outlined new classifications of certain animal groups.
In 1761 he went to England to study natural-history collections and to make geological observations. He was appointed professor of natural history at the Imperial Academy of Sciences, St. Petersburg, in 1768. About the same time he joined a scientific expedition to Russia and Siberia. For the next six years he traveled across the length and breadth of the vast empire. He found a wide distribution of mammoth and rhinoceros fossils, including some with their hairy hides preserved, in the Siberian ice. He returned to St. Petersburg in 1774 with a great amount of data and many fossil specimens, but he had ruined his health. He published his major findings from the expedition in three volumes, Reise durch verschiedene Provinzen des russischen Reichs (1771–76; "Journey Through Various Provinces of the Russian Empire"). His chief geological contribution, based largely on his study of the Ural and Altai mountain ranges of Siberia, was the recognition of a temporal sequence of rocks from the centre to the flanks of a range."
****
This print is illustrated in a small color reproduction in the back of Crows, Cranes & Camellias. The Natural World of Ohara Koson 1877-1945, p. 181, K26.1.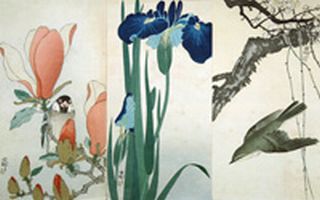 uncut sheet was like this
****
One Japanese source says that this sheet was published by Matsuki Heikichi (Daikokuya).